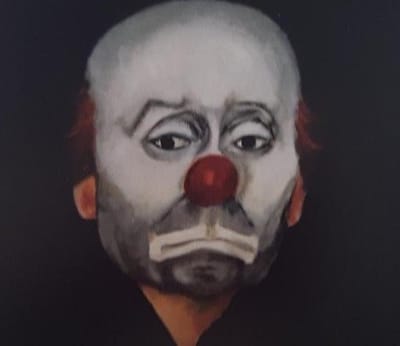 Aly Smith is an artist and a writer with bi-polar and a few other mental health diagnosis thrown in depending which health care provider she sees. Her work often looks at the comedic side of her bi-polar whilst wanting to raise awareness of mental health and the struggles that herself and other people have.
'My artistic practice is heavily influenced by my bi-polar diagnosis. I work across a mix of disciplines, predominantly oil paintings and textile sculptures which focus on clowns and masks which contemplate the disguises of everyday life.
My poetry responds to daily life, the mundane and the not so very mundane but both deserving of a record.'
The theme of 1 in 100 (#1in100) runs throughout Aly's work responding to medical research that states 1 in 100 people have bipolar disorder.